Suleman confident in Gold Fields' growth strategy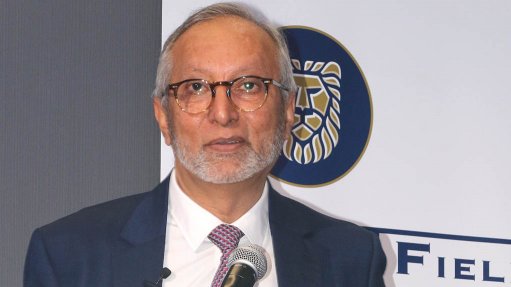 JSE- and NYSE-listed Gold Fields is confident in its growth strategy, with the latest two corporate transactions – both announced this year – demonstrating the company's commitment to growth, says chairperson Yunus Suleman.
Addressing the annual general meeting (AGM) this week, he said that although the bid for Canada's Yamana Gold did not proceed, Gold Fields "remained committed to growing the value and quality" of its portfolio of assets.
"We tasked management to explore quality expansion and replacement options beyond 2026, when group production is set to decline as two of our mines, Damang and Cerro Corona, start to see slowing production," he said.
In line with this, Gold Fields in March announced a proposed joint venture (JV) between the Tarkwa mine, in Ghana, and the neighbouring Iduapriem mine owned by AngloGold Ashanti, with Gold Fields being the managing operator. If supported by the Ghanaian government, it will create Africa's largest gold mine, with almost immediate production and financial benefits.
Earlier this month, Gold Fields announced a JV with Osisko Mining to develop the underground Windfall project in Quebec, Canada.
"This deal not only provides us with long-term, quality growth but also gives us an entry into Canada, a Tier 1 mining jurisdiction which we have long sought access to," said Suleman.
Gold Fields has already transferred the C$300-million required as part of the signature payment with the remaining C$300-million payable on receipt of all the required regulatory approvals.
"Both of these transactions were welcomed by shareholders and investors as an affirmation of our growth strategy," said Suleman.
Further, he reported that Gold Fields remained in a healthy financial and operational state, and continued to build on its leading environmental, social and governance (ESG) position.
However, challenges around safety remain, Suleman stated, referring to a fatal incident reported at the St Ives mine, in Australia, in October, as well as five serious injuries during the year.
Moreover, after meeting its production and cost guidance in 2022, Gold Fields generated almost $900-million in cash, enabling it to fund the construction of Salares Norte and pay record dividends to shareholders.
The company has also managed to bring down its debt to the lowest level in more than a decade.
Suleman pointed out Gold Fields had been one of the top performers among its peers since early 2023, with the miner's share price increasing by 67% on the JSE and by 48% on the NYSE.
"While this in part reflects the stronger gold price, it also mirrors investors' confidence in our near-term growth options and our ability to consistently meet production and cost guidance."
On the ESG front, Suleman said the company was on track to meet targets for 2030 it set in 2021, relating to six sustainability priorities.
The company has embedded three critical social priorities into its 2030 ESG targets, as well as three environment-focused ESG targets, the latter of which relate to decarbonisation, tailings management and water stewardship.
Among these initiatives is the launch of two new solar plants at the South Deep and Gruyere mines, as well as the $913-million in value that has been created in host communities.
Social, ethics and transformation committee chairperson Jacqueline McGill affirmed ESG elements were now fully integrated into Gold Fields' operational management of mines and projects.
"Our strong stakeholder relationships and the value we distribute to them support more than just our social licence to operate, they are at the core of our purpose of creating enduring value beyond mining," she stated.
The company remains particularly focused on creating value for stakeholders, especially in host communities.
Gold Fields has created between $500-million and $900-million in community value every year for the past seven years, amounting to almost $5.3-billion.
The company also strives to employ people from host communities, with 52% of its workforce now comprising people from host communities.
Gold Fields' procurement spend amounted to $2.3-billion in 2022, of which the vast majority was spent on businesses based in host countries. Of this $2.3-billion procurement spend amount, $747-million, or 31%, was committed to host community enterprises.
During the year, Gold Fields introduced favourable payment terms for small and medium-sized enterprises operating in host communities, by committing to paying them within 14 days.
To further strengthen its community impact, Gold Fields has framed and conceptualised a pipeline of legacy programmes for implementation from 2023 to 2030 by addressing our host communities' most pressing development needs and opportunities, including climate change resilience and economic diversification. The first legacy programme is currently being finalised and will be launched before the end of the year, relating to the development of a sustainable dairy value chain benefiting farmers adjacent to the Cerro Corona mine, in northern Peru.
In preparation for these programmes, Gold Fields worked with multiple partners in constructing 210 fully-lined micro-reservoirs in the area.
"It would be remiss of me not to mention our relationship with our host governments. These are not without challenges and for the past year we have been dealing with volatile political and economic situations in South Africa, Ghana, Chile and Peru,"said McGill.
"This has seen some of the governments increasing their pressure on the resources sector to increase contributions to government revenue.
"In contrast, Australia and Canada remain favourable mining jurisdictions with sound rules of law and reasonable economic policies in place."
McGill concluded the board remained committed to Gold Fields' ESG journey and would provide oversight and governance on critical aspects of the business.
Meanwhile, at the AGM, Gold Fields has advised shareholders to approve the election or re-election of various board members, including the election of interim CEO Martin Preece as a director.
Suleman has also been re-elected as a director, as have Terence Goodlace and Philisiwe Sibaya.
Sibaya will also serve as chairperson of the audit committee, with re-elected committee members Alhassan Andani and Peter Bacchus.
Gold Fields has advised that further engagement with shareholders is required in respect of advisory endorsement of the Remuneration Implementation report, owing to the fact that 35% of the voting rights exercised voted against the company's Remuneration Implementation report.
As such, the company has urged dissenting shareholders to email the company secretary from up to June 23.