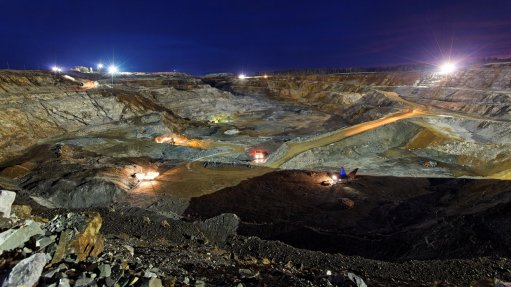 Polymetal's Voro openpit mine
Gold producer Polymetal International sought to play down the impact of US sanctions on its Russian operations as its London-listed shares tanked on Monday, emphasising that the restrictions did not affect its business outside Russia.
The US State Department on Friday included Polymetal's Russian business and Polyus - the largest gold producers in Russia - on its latest list of sanctions targets, aiming to punish Moscow for its invasion of Ukraine.
Polymetal's Russian operations accounted for around two-thirds of the group's revenue in 2022.
Its shares, which closed 8.4% lower on Friday, slid even further on Monday, at one point losing almost 40% on the day. By 08:46 GMT they were around 15% lower.
The US Treasury Department's Office of Foreign Assets Control (OFAC) on Friday placed blocking sanctions on Russia-based JSC Polymetal and any entities in which it holds a majority stake, but made clear that the sanctions did not target Jersey-based Polymetal International.
"JSC Polymetal is a legal entity registered in the Russian Federation which acts, amongst other things, as the holding company for the group's assets located in the Russian Federation," Polymetal International said in a statement.
"(It) does not have any operations outside of the Russian Federation."
"Neither the company, its subsidiaries nor its affiliates are designated as sanctions targets of the UK or the EU, with the exception solely of the company's Russian subsidiaries."
Polymetal is seeking to re-domicile from Jersey to Kazakhstan and shift its primary listing from London to Astana to allow it to advance plans to separate its Russian and Kazakh businesses next year.
Polymetal International on Monday said it remained committed to pursuing its re-domiciliation, which is subject to shareholder approval.