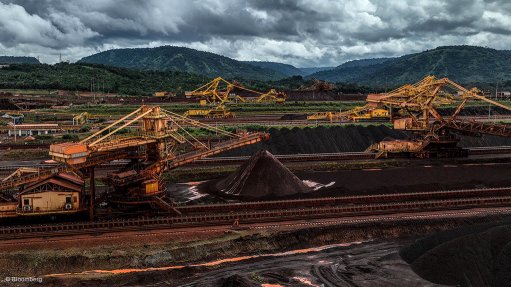 Vale is plowing ahead with a $2.7-billion investment to expand iron output in Brazil's Amazon, betting demand for high-grade ore will stay strong in an overall softer market.
At the world's largest and richest open pit, carved out of the forested mountains of Carajas, Vale is on track to add 30-million metric tons of capacity, it reported during a site visit last week. Work at the S11D mine is part of a plan to be able to supply 260-million tons from its northern operations by 2025.
The $14-billion S11D mine and nearby ore-bodies are Vale's big hope for staying ahead of the competition in a market where futures have slumped on waning demand from Chinese steel mills, but where richer ore commands a premium.
The higher ferrous content in ore extracted from underneath Carajas' rich topsoil helps reduce the amount of fossil fuels needed to make steel as the world strives to decarbonize. Still, the cost of cleaner steel is this Mars-like footprint in the Amazon. The operation occupies about 2% of the green mosaic, which is also home to indigenous communities.
To offset the impact of mining in the Amazon, S11D uses electric excavators, conveyor belts rather than trucks and mobile crushers that cut diesel consumption by 60%. Vale also assists in conservation efforts and monitoring of illegal mining.
Work at S11D, also known as Serra Sul, is part of Vale's value-over-volume approach, as it shifts focus away from more mature, lower grade mines in Brazil's south.
The Rio de Janiero-based miner became a major swing factor in the iron ore market after a 2019 dam disaster upended its operations and saw it slip behind Rio Tinto Group in producer rankings. Vale recently abandoned a push to get back to pre-disaster levels, but continues to build its northern capacity, which last year accounted for 60% of production.
At S11D, Vale has been granted environmental permits to advance with works that include installing a second 9.5-kilometer (5.9-mile) conveyor belt, a fourth processing plant, and duplicating part of a 900-kilometer railroad that takes ore to the Ponta da Madeira port. A separate project, called Gelado, will turn mining waste into high-quality material.
To be sure, Vale will still need to invest in logistics to be able to transport additional ore at S11D. The railroad that takes ore to port is expected to have a 240-million-ton capacity by then.
It's a different story at nearby Serra Norte, where mining began in the 1980s. Production there has declined in recent years, with pits depleting faster than Vale can obtain permits for new ore-bodies.
"The last license we obtained for a new mining operation was at the Morro 1 mine in 2019," said Joao Falcao, Serra Norte operations director.